We are pleased to announce to you our upcoming event for April 2022 in collaboration with
Health, Innovation and Research Institute (HIRUZ),
Drug Research Unit Ghent (DRUG)
Safepedrug Clinical Trial Unit (SPD CTU)
for SPD CTU, Prof. Bram De Wilde & Prof. Johan Vande Walle
for HIRUZ, Prof. Catherine Van Der Straeten
for DRUG, prof. Sylvie Rottey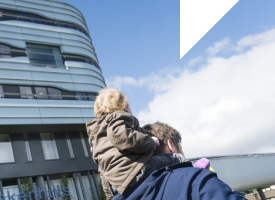 With this event we want to meet with our stakeholders. We want to present the UZ Ghent infrastructure and experience in clinical trials and drug research. The focus of the event will be on:
Drug development in children
Research and Innovation
Drug development in oncology
Early Phase Clinical Trials
---
Program
12h – Registration with light lunch

13h – Welcome – Prof. dr. Sabine Vandaele

13h15 – Clinical trials in an academic environment – Prof. dr. Piet Hoebeke

13h30 – The new SPD-CTU project for UZ Gent – Prof. dr. Sylvie Rottey

14h – C4C – Prof. dr. Van De Walle

14h30 – ITCC

15h – Coffee break

15h30 – When promising treatments lead to disappointing results in clinical trials – Prof. dr. Nora Sundahl

16h – Clinical vaccine trials in the post-COVID-19 era – Prof. dr. Isabel Leroux-Roels

16h30 – Future Trends in Medicine – Prof. dr. Eric Mortier

17h – Drink

8h – Registration with coffee

8h30 – Welcome – Prof. dr. Catherine Van Der Straeten

8h45 – Translation research UZ/UG en daarbuiten – Prof. dr. Catherine Van Der Straeten

9h – TEARDRoP – Prof. dr. Bram De Wilde

9h30 – Development of cusatuzumab in oncology and hematology – Julie Jacobs

10h – Coffee break

10h45 – Healixia – Erik Present

11h15 – Comprehensive genomic profiling and molecular tumor boards: the cornerstone of precision oncology – Prof. dr. Philippe Aftimos

11h45 – Update COVID research – Prof. dr. Bart Lambrecht

12h05 – Lunch break

13h – R&D pipeline – Dr. Tim Desmet

13h30 – Paper: accelerate platform (fit for filling) – Prof. dr. Bram De Wilde

14h00 – Filgotinib – Gerben van 't Klooster

14h30 – Alice in "real world data" wonderland – Prof.dr. Johan Decruyenaere

15h00 – Developing an emergency antibody drug from scratch in academia: mission (im)possible? – Prof. dr. Nico Callewaert

15h30 – Closing word – Prof. dr. Sylvie Rottey

15h45 – Reception
With special thanks to vzw Kinderkankerfonds, a non profit child cancer foundation.
Accreditation is requested
MDEON visum V2 request has been submitted
---
Location
Virginie Loveling Building (VAC Gent)
Koningin Maria Hendrika Plein 70
9000 Gent
---
Gold sponsors
Sponsors