Perscommuniqué TEARDRoP – 3 juli 2021
Met steun van het Olivia Fonds melden wij de oprichting van het TEARDRoP Oncology consortium. De naam, een acroniem voor "Team EARly DRug development in Paediatric Oncology" verraadt meteen de doelstelling, namelijk nieuwe inzichten in kanker bij kinderen gaan vertalen in nieuwe therapeutische opties. We willen er dus voor zorgen dat de wetenschap sneller zijn weg vindt naar kinderen die dringend nieuwe en betere behandelingen nodig hebben.
We zullen dit bewerkstelligen door de afstand tussen het ziekenhuis en de onderzoekers zo klein mogelijk te maken door onder meer biobanking verder te ondersteunen alsook de dialoog tussen beide te bevorderen. Het aanreiken van waardevol patiënten materiaal aan onderzoekers stelt hen in staat om nieuwe behandelingsopties rechtsreeks te gaan testen op materiaal van echte pat iënt en . Ook zal dit hen helpen om die patiënten te identificeren die baat kunnen hebben bij de nieuwe generatie, meer precieze geneesmiddelen. Kwalitatieve onderzoeksresultaten bekomen met dit materiaal zijn cruciaal voor de artsen die kinderen met kanker behandelen om nieuwe therapeutische mogelijkheden aan patiënten aan te kunnen bieden en te zorgen dat de juiste behandeling bij de juiste patiënt terecht komt.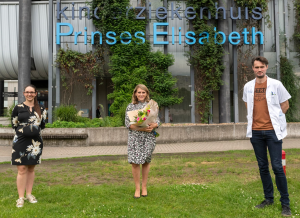 Dankzij het Olivia Fonds kan dr. Ir. Liselot Mus onder directe begeleiding van pediatrisch oncoloog prof. dr. Bram De Wilde (UZ Gent) en prof. dr. Catherine Van Der Straeten van het Health, innovation and research institute UZ Gent (HIRUZ) zich ten volle aan dit project wijden. Onze ambitie is echter om deze inspanning ten goede te laten komen van alle kinderen met kanker in België, daarom is ons partnership met de Belgian Society of Pediatrie Haematology Oncology (BSPHO), die al jarenlang academisch onderzoek voor kinderen met kanker mogelijk helpt maken, van cruciaal belang. Samen zal het TEARDRoP Oncology consortium de zoektocht naar nieuwe therapeutische strategieën ondersteunen door waardevol patiënten materiaal beschikbaar te stellen voor nationaal en internationaal toponderzoek naar kinderkanker.